A native of France, Sarah Bellagamba is a professional dancer, Vinyasa yoga instructor, AntiGravity® and Yamuna® Body Rolling practitioner. Her dance career has taken her all around the world, to perform, teach and choreograph and inspired her to study anatomy and many different body conditioning techniques for movement in order to prevent injuries, build more strength and increase her range of motion.

Her different classes are meant to do just that : teach you tools to keep your body moving and injury-free. Whether you fly with her in the AntiGravity Hammock, roll on a Yamuna ball or just flow on your mat, you will create space in your body, linking your movement to your breath, and leave the class recharged and energized.
YOGA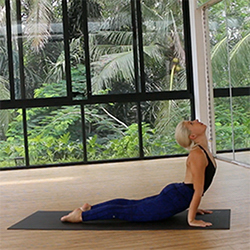 From Vinyasa Yoga classes, to special focus workshops including Fascia release and Body Rolling, Aerial Yoga or Yoga with essential oils, I have taught at Parisian studios such as Beyoga, Blanche 21, Caelo, Centre Element, Klay, Kshanti, Paris Yoga Shala, Snake & Twist, Tigre Yoga Club, L'Usine, Yoga Garden Rive Gauche, as well as internationally (Italy, Spain, Lebanon, Japan, Singapore, Bali, Thailand, Sri Lanka...)
Private coaching is a perfect way to dramatically improve one's practice. Whether you're a beginner or an experienced yogi you will benefit from this custom-made instruction specifically designed to match your needs, goals and expectations.
Many progressive businesses have embraced corporate yoga. Offering Yoga in the workplace has great benefits : it helps reducing stress, enhances employees strength, posture, increase their focus, efficiency, productivity and creativity. From slow and meditative to energizing and active practice, I can offer a wide range of classes to help your business be more competitive with less sick leave, and happier employees.
Yoga and wellness are becoming a whole new branch of tourism. My passion for movement and the anatomy of the human body, my creativity and entrepreneurial spirit fuel my will to succeed in serving an increasingly large and ever more demanding clientele. My professional experience is a definite asset in meeting the demand of high-end hotels guests. I have worked at prestigious establishments such as Crillon, Mandarin Oriental Paris, Park Hyatt Vendôme Paris, Hôtel Barrière Le Fouquet's, Grand Hôtel du Palais Royal Paris, La Réserve Paris, Novotel Eiffel Tower Paris, Novotel Vaugirard Paris, Sofitel Manama (Barhain), Sofitel Casablanca (Morocco).
While the majority of the world is on lockdown and we are separated physically, I am very excited to bring a community of people who care about wellbeing and self-care together through my new live streaming classes, as well as a selection of recorded videos. Though it may not be the practice you are used to, I think body sustainability practices are essential to making your body feel good and keeping your mood elevated.
PADDLE YOGA
A unique Yoga class in an exceptional setting.
Explore new sensations and find your balance practicing yoga on a Paddle.
Eager to offer new experiences to the wellness community, I embarked on the conquest of the most beautiful parisian pools, implementing the first Paddle Yoga classes in Paris.
Private sessions for hotel guests or small groups (according to the pool size - to guarantee smooth and successful conduct of the class). Paddle Yoga will bring originality and wellness to your events.
I have 8 Aqua Marina Stand Up Paddle Boards. The rectangular-shaped Peace SUP boards are wide and stable for a safe and serene yoga or fitness class.
On the Diane Barrière Spa activities menu since Spring 2018, Paddle Yoga classes earned the Fouquet's Hotel several TV appearances for World Wellness Weekend.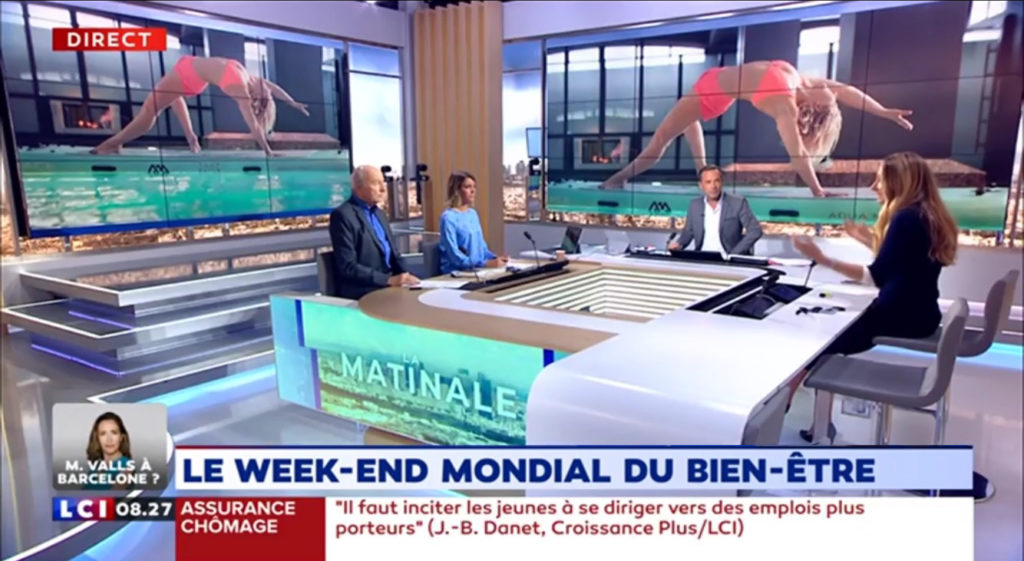 ANTIGRAVITY® YOGA AND FITNESS
Workout and fly high!
Mixing Yoga asanas, Pilates exercises and aerial dance into a workout...
This is the challenge the American world-class gymnast and Broadway dancer/aerial choreographer Christopher Harrison took up when he realized aerial arts and simple suspension techniques also had health and fitness benefits for the general public and that some seemingly impossible inverted poses were in fact much easier to practice in the air.
Halfway between circus and meditation, AntiGravity® pleases "extreme disciplines" addicts as well as relaxation enthusiasts.
In your hammock, you will workout like never before : strengthen your upper body, stabilize your core, tone your legs and align your body from head to toes.
Zero-compression inversions are an excellent way to reduce stress while decompressing the spine and neck and stretching the whole body. While in the relaxing poses, you can cradle in your hammock, finding presence and awareness, of body, mind and spirit.
Not only will you become more efficient with your movement and more confident about physicality, but you will become lighter!
The technique has been endorsed by Ironman's Gwyneth Paltrow as the secret to her health and fitness and Christopher Harrison himself promises "If you can 'suspend your disbelief ', I guarantee that I can make you healthier, happier, and taller in just one session."
YAMUNA BODY ROLLING
Looking for a new way to enhance your well-being and help you sustain a healthy, vibrant, and stress-free body?
Try YAMUNA BODY ROLLING
Unlike other ball exercises, Yamuna Body Rolling goes far beyond random movement and stretch. Based on anatomy and body logic these series of routines, created over 20 years ago by internationally-acclaimed therapist and Yoga instructor Yamuna Zake, allow you to work specific muscles in detail to create suppleness in tight areas, realign bones and joints, and optimize range of motion.
Over the years, the Yamuna Body Rolling practice has earned respect from chiropractors, physical therapists, Yoga, Pilates and Gyrotonic instructors, massage therapists, bodyworkers, fitness trainers and dance teachers.
BALL
You use your body weight to sink into the 6 to 10-inch inflatable balls designed exclusively for Body Rolling so they become the skilled hands of a therapist. You choose the size and resistance of the ball, depending on what parts of the body you are working. Some balls allow for more detailed muscle and tissue work and other balls release tension to create relaxation and space from head to toe.
SPACE
If we need space on a psychological level, all our body parts also need it to function optimally. Body Rolling's basic principle is that pain, restrictions, and body problems in general come from a lack of space. Body parts are compressed (joints, vertebrae, organs) so they can't move or function like they are supposed to, therefore you feel pain. The body gets locked into patterns due to habits, repetitious movements, traumas, etc. So we work to restore space in the body.
ANATOMY
Body Rolling works following the body's anatomical logic and order. We start stimulating the bone, which initiates the release of the muscle since the bone and muscle are attached via tendons. We'll then roll along the muscle, from origin to insertion, exerting traction with our own body weight so that the muscle understands in which direction it must release.

DETAIL
Body Rolling targets all body parts through specific routines : from "foot fitness" that re-educates the muscular chains of the leg connecting and realigning foot, ankle, knee and hip to prevent injuries in those joints to the intelligent sequencing of movements over the ball that prevent headaches, back, neck and shoulder tensions; repetitive stress syndromes, such as carpal tunnel, that result from hours of sitting at a desk or computer. You will work through the layers of tension built up over years, moving progressively through deeper layers.

ADAPTABILITY
Ideal for athletes, yogis, dancers, musicians, singers, Body Rolling is also strongly recommended for people with a more sedentary lifestyle to keep their body pain-free and flexible throughout life, instead of experiencing the stiffness and restrictions associated with aging.
No matter how old you are or what physical issues you might have, all Body Rolling routines can be modified, so that you can safely do them and still see dramatic improvements.
FITNESS
Before or after any type of physical activity, Body Rolling can warm-up the muscles or be a massage.
It helps improving performance and therefore optimizes your workouts. Moreover, it both prevents and assists in the swift healing of injuries. As to your silhouette, not only does Body Rolling stimulate all the nerve roots along the spine which encourages lymphatic drainage and increases the metabolism but elongating and freeing muscles improves your posture, so you have a longer, leaner look.
GALLERY
You are always just one breath away from a better you!
ABOUT
While I hold paperwork stating that I am a citizen of Paris (France), you are more likely to find me at an airport near you, headed to my next exotic locale, trotting, hopping and trekking across the globe, seeking out my next project and opportunities to share my passion. I love teaching, exercising, performing, choreographing and directing. When not doing any of those things, I'm fond of smiling, taking pictures, and trying out new tasty vegan food.
Schedule
MONDAY
6:30pm - Hatha Flow OlyBe Soft Energy Yoga (60min) @ Yoga Searcher
TUESDAY
10am - AntiGravity (60min) @ Klay
6:30pm - Pilates (60min) @ OlyBe
WEDNESDAY
7pm - Hot Flow (60min) @ Yoga Loft La Defense
THURSDAY
6pm - Lagree Fitness Megaformer (60min) @ Le Studio Lagree Neuilly
7pm - AntiGravity (60min) @ Le Studio Lagree Neuilly
8:30pm - AntiGravity (60min) @ Klay
FRIDAY
12:30pm - Oly Be Vinyasa (60min) @ Espace Sport & Danse
SATURDAY
11am - Oly Be Vinyasa (60min) @ Novotel Tour Eiffel
SUNDAY
11am - Oly Be Vinyasa (60min) @ OlyBe
CONTACT
To get in touch with me, drop me a line here.
ONLINE CLASSES
I strongly believe that a healthy body makes a happier mind. You can bring me to you and practice in the comfort of your own home, any time you want. No need to travel, you can pick the sequence that suits your needs that day, and how much time you can allow for your practice.
Livestreaming classes on Zoom
I can see you practice and personalize instructions.
These classes will help you better understand your body through sensation and proprioception, teaching basic anatomy principles to develop more control and strength.
Yamuna Body Rolling® is a self-healing tool.
In a YBR® class you learn both basic and advanced YBR® routines as the instructor takes you systematically through the entire body, elongating muscles, releasing your spine, improving alignment, deepening your breathing, and increasing your relaxation response.
Experience remarkable changes in your body after just one class.
You can now book Yognroll classes using your Classpass Membership